SecretExplorer: Protected Storage Explorer
Secret Explorer v8.0.1546
Recover Internet passwords and more
released on 3/6/2008
Download
demo (563 Kb)
All Our Products
Secret Explorer Pro
Price
59 39
Buy Now
Secret Explorer Std
Price
39 29
Buy Now
Related products:
MegaPack
All-in-one. Buy all our programs in this single package. Great value for money!
Learn more
Buy
What's new in Secret Explorer v8.0.1546:
- Alien registry import improved


Explore Protected Storage (View, Analyze, Edit, Import and Export) and IE 7 password storage

Retrieve AutoComplete passwords and data

Recover various Internet Passwords

Transfer Internet passwords and settings from one computer to another
This system inspection/maintenance tool allows you to explore Windows Protected Storage. This Windows feature is not documented and is known only to professionals. With Secret Explorer you will be able to become a professional, too. You will be able to locate hidden information in any Windows-based system. This includes web form autocomplete data from Internet Explorer; passwords for password protected websites; MS Outlook account and identity passwords, dial-up passwords and other data that Microsoft decided to store there. With the unique import/export feature of Secret Explorer you can move all your personalized data (such as IE web form autocomplete data and stored passwords) from one computer to another, basically familiarizing the new system with you.
Standard and Professional versions
There are two different versions of Secret Explorer: Standard and Professional. The following features are available in the Professional version only:
The ability to import foreign registry files
Special report mode designed for investigation and forensic examination
XML Reports. Standard version can generate plain-text reports only.
Protected Storage editing capability (Standard version operates in read-only mode)
OLE Automation. Professional version supports OLE Automation, so you can control it from your applications.
Scripting support. You can write macros to control Secret Explorer using Visual Basic Scripting.
Professional version is designed for advanced use such as investigation and forensic examination.
Note that Secret Explorer v5.0 has built-in auto-update feature, so you will be notified about new releases (if internet connection is available).
System requirements:
Windows 95/98/Me or NT 4 / 2000 / XP / Vista, Internet Explorer v4.0 or higher.
View end-user license agreement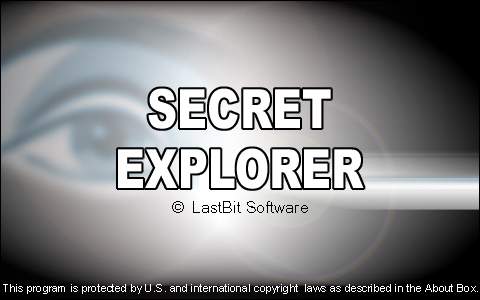 Screenshot (click to enlarge):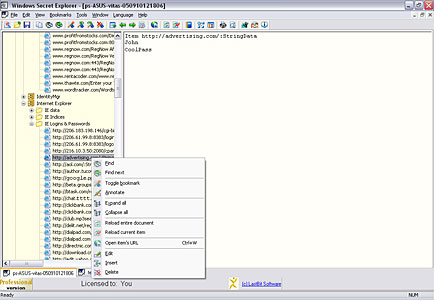 Related software
You could be interested in the following related software products:
Alien Registry Viewer. Alien Registry Viewer is similar to the RegEdit application included into Windows, but unlike RegEdit, it works with standalone registry files. While RegEdit shows the contents of the system registry, Alien Registry Viewer works with registry files copied from other computers.
Find Password Protected Documents is a utility to search for password protected (encrypted) documents on your computer. Current version analyzes Word, Excel documents (passwords to open), Access databases (share level passwords), Outlook PST files and Zip archives.
If you have any problem or question, feature request or inquiries, do not hesitate to contact us. Just send us email, and we'll get back to you as soon as possible.