Express Recovery (Inhouse Edition)
Express Recovery (Inhouse Edition) is a standalone product that allows you to recover Word and Excel documents protected with a password to open regardless of the password length.
No data is transmitted over the Internet and the entire recovery process takes place on the client computer. Using Express Recovery (Inhouse Edition) you can recover an unlimited number of documents. Normally we offer Express Recovery as a service, it is much cheaper and easier. Express Recovery Inhouse Edition is designed for those who either have a lot of documents to recover and do not want to pay a per document recovery fee and/or for those who cannot send any data over the Internet (for example due to corporate security policy).
Brute-Force Attack
Guaranteed Recovery
Express Recovery (Service)
Express Recovery (Inhouse Edition)
Recover Word/Excel 97-2003
yes
yes
yes
yes
Where recovery is performed
your computer
Our datacenter 1
Our datacenter
Solely on your computer
Time required
may take a lot of time
36 hours maximum 2
One minute maximum
4 minutes average 3
Success Rate for Word docs
40-80%5
100%
100%
99.7%
Success Rate for Excel docs
40-80%5
100%
97% 4
96.7%
Availability
Word Password,
Excel Password
PasswordNow.com ,
Word Password, Excel Password
PasswordNow.com ,
Word Password, Excel Password
Available as a standalone product
Pricing
One time fee, unlimited usage
per document fee
per document fee
One time fee, unlimited usage
Notes:
1 - Currently Guaranteed Recovery is performed in our Data Center however we can offer you an Inhouse Solution. Guaranteed Recovery requires several computers, the more the better. It is recommended to use at least 10 modern computers.
2 - Time depends on the number of computer used. We guarantee 36 hours as the maximum time. Usually it is faster.
3 - Dependency on the number of files is complex and non-linear. Also time depends heavily on the computer configuration (the faster the CPU and hard drive the better. Amount of memory has a negligible effect). Here is the estimate based on the number of documents in the task (Quad core 2.4 Ghz CPU):
One document recovery: typical: 50 seconds (typical), worst case: 8 minutes
Three documents: 70 seconds (typical)
Ten documents: 2 minutes (typical)
100 documents: 15 minutes (typical)
1000 documents: 3 hours (typical)
4 - some Excel documents (about 3%) can not be instantly recovered, Guaranteed Recovery is required.
5 - success rate for Brute Force Attack depends on the length and complexity of the password, computing power and the time you have. You can use our Password Calculator to estimate the amount of time required.
- You can use Express Recovery to recover Office XP or 2003 documents only if they were saved in the default (Office 97/2000 compatible) encryption mode. If the document has been saved in the advanced encryption mode, Express Recovery will not work. Office 2007 documents can not be recovered using Express Recovery. You can find more information on Office 2007 recovery here.
- Express Recovery is applicable to passwords to open only, other password types are recovered instantly even without Express Recovery. (Excel password recovery methods overview, Word password recovery methods overview).
- Original password is left unknown. You can use Brute Force Attack to find the original password, but if the password is long enough, it may take too much time.
- Note that there is a small failure probability, so there is a small chance that you'll be unable to recover your document using Express Recovery Inhouse Edition. However we will give you a recovery voucher that will allow you to process such documents in our datacenter using Guaranteed Recovery free of charge.
- Activation is required in order to start using this program. Activation requires an Internet connection. Activation is a one-time process, you will need to perform it only once after the installation. If you want to install this software on several computers, you must buy the corresponding number of licenses (we offer huge volume discounts).
- Data files take about 9 Gigabytes of disk space.
Express Recovery Inhouse Edition is developed to protect your privacy. No data is sent over the Interenet, the recovery process is being performed completely on your computer.
Demo version is not available due to the data size (9 Gb). To evaluate Express Recovery you can use the demo version of our Word Password or Excel Password program - these products use Express Recovery as a web service.
You can view Express Recovery Inhouse Edition screenshots here.
Express Recovery Inhouse Edition System Requirements
Once your order is processed, we will send you the program by mail (we use UPS Next Day service ) . The disk will be shipped out within two business days.
Also we will provide a download link, so if you are in hurry you can download the program immediately (download size is 8.5 gigabytes)
The program is shipped either on two plain DVD-ROMs or on a single dual layer 8.5 Gb DVD ROM.
Note: Express Recovery (Inhouse Edition) is currently available for download only (9Gb); DVD will be available shortly.
Once your order is processed, no refunds are given. We guarantee the quality of the media and if the disks you receive are damaged, we will replace them for free.
Express Recovery (Inhouse Edition) costs $299. You can place an order here.
Single document task, quad-core CPU (Intel Q6600 2.4 Ghz)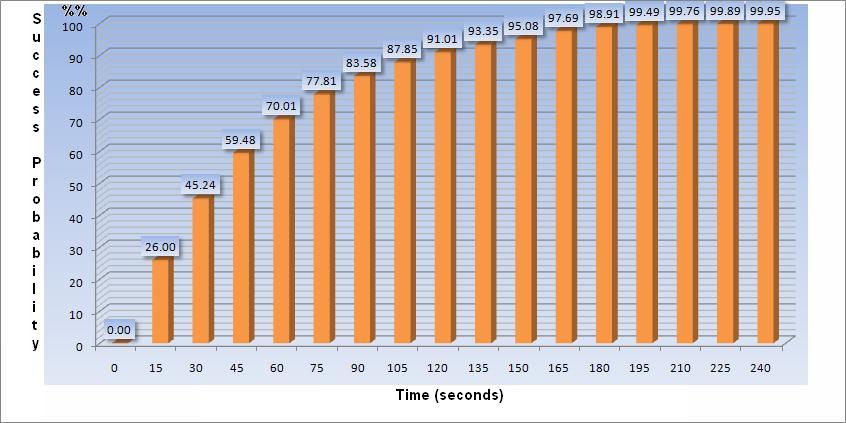 Big task, 400 documents, quad-core CPU (Intel Q6600 2.4 Ghz)